The Where, How, and Why of a Wedding Registry: You have heard of them… but have you ever used one? A wedding registry makes it easy for a couple's guests to purchase a gift that they know the bride and groom want and will use. While not all couples choose to have one, it is a great way to prevent them from receiving the same gifts from multiple people.
Most major department stores and many online retailers offer wedding registries. Discount department stores are beginning to adopt them as well. If in doubt, a quick online search will let you know your options. When searching for the wedding registry kiosk in any store, a safe bet is to check the front of the store; as that is often where the kiosk is located so customers will see it when they walk in.
The way a wedding registry works is that a couple chooses the store or stores that they want to receive gifts from. They go into each store (or to the store's website) and choose the items they want. The store then creates a database of all the items a couple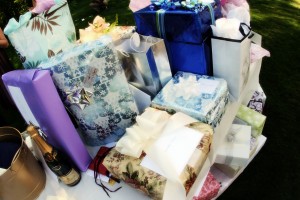 chose and files that database under the couples' last names and their wedding date. Friends and family can then go to the stores or the website and look up a couple's registry.
When an item is purchased from a wedding registry the person who purchased it can get a gift receipt so that if the couple changes their mind about the item they can return it to the store. Like any other gift receipt, the item will be listed but the price paid for it will not.
Aside from a typical wedding registry, there are now websites that allow couples to register for cash gifts instead of items. Many of these sites stipulate that couples are required to state how they plan to use the money they receive as a wedding gift. Those who want to send the couple money can then do so using options such as their credit card or even Paypal. A recent trend is for couples to use this as their "Honeymoon Fund". Also, many photographers will allow the couple to register with their studio to have money be paid towards the couples wedding photography.
Here are some tips to keep in mind before heading out:
Over register… It will keep your guests happy having lots of choices to consider when purchasing your gift, and remember there are engagement parties, showers and the wedding to purchase for.
Chose a wide range of dollar amounts… Some guests like to purchase several less expensive items and others prefer large ticket items. You will need many different priced items to be able to cover all of your guests wishes. Not everyone will use the registry, but consider the amount you will need to register for if half of your guests do.
Tell your guests! Be sure that you notify your guests of where you have registered. You can do so in your invitations and also on your wedding website or blog, if you have one.
Many couples are choosing to register at one or more major department stores and one or more discount department stores, as well as specialty stores, so that guests have options as to what they prefer to purchase.
Choose where you would like to have your gifts shipped. It is helpful to have one location where gifts can be safely shipped to. Use this address when registering with your favorite stores.
You can make a date out of your wedding registry planning. Set aside time with your fiancé, grab a coffee, lunch or dinner and enjoy the process!
Here are some of our favorites!