Wedding Planning – What to Do?
Best wishes on your engagement! We know you are excited and want to plan the perfect wedding for you, your family and friends. Much like Alice in the story "Alice in Wonderland" you may do anything you like, but there are lots of choices to make and this may easily overwhelm even the most organized person.
Here at WeddingDetails.com we want to provide you with ideas and planning tips that will help you with the process. A wedding is two people being married. The details are what will make this event personally yours.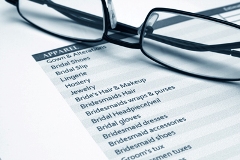 So, where to start?
Take a little time and talk with your fiancé about what you both would like the day to "feel" like.This will help determine the locations for the wedding day.Your engagement period is the beginning of a life of many discussions, so it is good to get to know the ideas of your future spouse. After you and your fiance discuss these items then discuss the wedding with any other parties who will contribute to the budget to start off on the right foot, in one accord.
Planning the basics: What to Consider
The average cost of a wedding in the United States is $32,000 for approximately 150 guests. Is your budget above or below the average?
Who will contribute to the cost of the wedding?
Do you want the wedding to be near where you live, your hometown or in a location where everyone would travel to?
Will the ceremony be in a religious setting such as a church, chapel or synagogue; at an outdoor location; or on the same property as the wedding reception?
Who would you like to include on the guest list? Family; family and friends; family, friends and co-workers?
Who would you like to include in your bridal party?
Once these basic questions are answered then you can move on to the selection phase. Answering them first will save you time from looking at places that won't match the feelings or budget you have discussed.
Happy planning!