Blog by
By Sydney Denoyer of MSU, & Events to Remember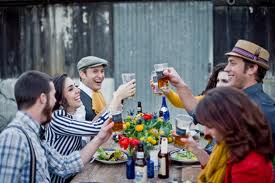 The rehearsal dinner is a time where the family and friends of the bride and groom enjoy wonderful food and company. It is commonly known to take place after the wedding ceremony rehearsal, but that's not always the case now-a-days. It's not always convenient for the bride and groom or the family and friends to get together after the rehearsal, so a dinner or pre-nuptial party can be held at any time that fits your schedule.
   The event also does not need to be held in a fancy venue. The dinner could be held in someone's backyard or in a local restaurant that the bride and groom love.  You don't want to up-stage your wedding, you want your guests to get a "taste" of what your wedding will be like and look forward to the wedding.
    Traditionally, the parents of the groom pay for the rehearsal dinner, because the bride's family pays for everything else. Couples are more modern now and like to share the expenses of the wedding as a whole, so not one specific person or family has to pay for certain things. A lot of couples split the expenses between themselves and their parents or family members that are very close the the bride and groom ( i.e. Grandparents, aunts/uncles, or godparents).
     Once it is decided who will be paying for the dinner, you need to reserve a venue or restaurant (if needed) to hold the dinner. If you are having the dinner at someone's home, then you need to find a caterer or you may decide to cook it all yourself. These tasks should be checked off of your "Wedding To-Do List" about 4-6 months away from the rehearsal dinner. You then need to decide who you are inviting to the rehearsal dinner. Usually, it is the bridal party (bridesmaids, groomsmen, flower girl, ring bearer and their plus one or parents of anyone under 18, immediate family, and whoever in your extended family and/or friends that you believe should be there. It is also a courtesy to invite the out-of-town guests to the rehearsal dinner, but if the majority of your guests are from out-of-town then don't feel like you have to invite everyone.
     Depending on the amount of people who you are inviting to your rehearsal dinner, it may be appropriate to send out a small invitation that includes the time, date and location of the event. If this is something that you are wanting to do for your event, you should send them out to guests a month prior to the dinner. No matter what you decide, don't be stressed, because at the end of the day it's YOUR day!