| | |
| --- | --- |
| Bridal Shower Ideas – New and Fun | |
Often the bridal shower is a time when friends from all stages of the bride's life meet for the first time. Make it a sharing time when each of her friends can share their fondest memories of the friendship they've shared. Have each shower guest bring a favorite photo of a time or event they shared with the bride, and compile them in a special scrapbook as a heartfelt gift for her.

Co-ed showers are common today, and can ease the tension as the bridal party not only carries out their duties as attendants, but gets to know the people they are spending the day with. Break the ice early with a picnic,luau, ski weekend, beach party, brewery tour, river float, or even a scavenger hunt. The better your bridal party knows each other, the more fun they'll have on your wedding day.

Today, vibrant colors and modern themes are wonderful ideas for bridal shower invitations.Whether it is a classic silhouette design with a modern twist or toile bridal shower invitations,paper is a wonderful way to make a statement about you and the party.
Cute favor ideas for a beach-themed shower:





Whether co-ed or traditional women only, the bridal shower can be more fun with a theme. Make it a casino night, a pool party, or a beauty make-over. Gift themes are also fun and can be personalized for the bride. Have a "Gardening Party" for the bride with a green thumb, or a "Library Luau" for the bookworm.
Shower Theme Ideas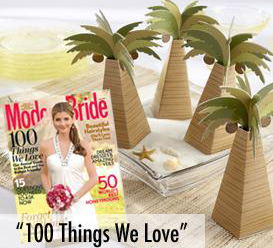 Asian
Calla Lily
Cherry Blossom
Christmas
Cooking & Baking
Daisy
Destination
Fairy tale
Fall
Garden
Hawaiian Luau Theme
Hearts
Las Vegas
Love & Romance
Perfect Pair
Vintage
Wine Lover
Winter
These shower game ideas are actual submissions that have been collected from ladies all over the country by Wedding Details and the folks at Bridal Shower Bingo. Have fun reading them. Share your game ideas and photos by sending to join@weddingdetails.com.
---
Hi Linda,
I loved reading all the ideas for shower games but didn't see this one. As a mother of 2 brides, this game is a BIG HIT with guests.
Design The Bride's Gown
Number guests in 2's. Each 2 decide who is going to be the bride and who is going to be the designer. Then hand all the designers a whole role of toilet paper and the designers are timed to create a gown in 5 minutes. This is hilarious and really fun, too.
From hip hugging, mini dresses to long pouffie gowns with trains, tiarias, bouquets, to whatever they can design you'll find is quite amazing!
The real Bride gets to choose which gown she likes the best. Prize is a 12 pack of T. paper of course! Enjoy!
Bev Rose, Oregon
---
Paint Ball Guess
At my niece' shower, we played another game that I thought up and had a blast laughing about. I took a quart jar and filled it with paint balls!! This is one of the things he loves to do – Paintball. So to give it a little more of a shower show, I put a dolly on top and tied her favorite color of ribbon around the jars top. I placed the jar in the middle of the floor on a wooden pedestal (give a little more class) and had each person guess how many paintballs were in the jar. The groom gets the paintballs and she gets the dolly and jar.
---
The Price Is Right Game With A New Twist
This such a blast!! You announce you are playing the prices right game. Each person is given a piece of paper and pen, to write down the cost of the items when you say, "and the price is". You can create a wide variety of ideas, but this is just one of them. My niece, who is not into the frilly things but more into hunting, fishing, etc., was given a picnic.
Start out with telling them to keep their love alive in their marriage they can have a picnic anytime, in the winter, rainy days, and yes, bug free by having one right in the middle of their floor for their man. Then you set your scene by first putting on a CD or Tape with bird music!!! Next place a blanket on the floor or table and say the price is…( in my nieces case I had purchased a camo blanket).
Next get out your picnic basket, and say the price is… (Your purchased picnic basket should already be equipped with plates,cups ect., you place these items out on the blanket). Next, place a purchased centerpiece and say, and the price is… ( but in my nieces ,I made a candle holder out of deer antlers and told them this was priceless.LOL)
Next place the drinks on the blanket and say, and the price is…. ( This could be a bottle of wine, etc., but for my niece is was a six pack of Mountain Dew). Next you can place a gift certificate on their plate and say, the price is…( it can be for Kentucky Fried Chicken ,ect.)
At the end, ask each one what they have as a total, and the closest person to that cost gets a prize !!! Be creative and have fun, but just remember your blanket always needs to be on top of the basket since it will be the first item laid out. Pack up your basket or leave out for others to see and give it to the Bride to be along with the bird music !!!
A bridal shower is a party to outfit the engaged couple's new home. It also allows friends and family a chance to spend time with the bride before she starts her married life.
WHO MAY HOST?
Friends of the bride who are in the wedding party, another couple, or even a male friend may host the shower. The bride's mother, sisters, or close relatives of the groom's usually don't do the hosting, to avoid the appearance of asking for gifts. They may help finance or help organize, however.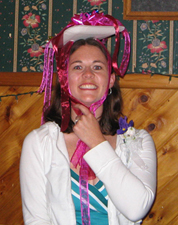 WHO IS INVITED?
Usually, only those who will be invited to the wedding, with the exception of office or club showers. Traditional all-women showers include guests from the bride's and groom's families, but co-ed showers are becoming more popular as well.
WHEN IS IT HELD?
At least two weeks before the wedding. Mail invitations or call guests at least two weeks in advance of the shower date. A post-wedding shower may even be more convenient for some, and is also acceptable.
WHAT HAPPENS?
Gifts are the primary focus. Be sure to have someone on hand to help record gifts (for thank you notes). Ribbons and bows may be collected for practice bouquets for the rehearsal ceremony. Themes make the party special, and can vary from a honeymoon theme, gardening, cooking, movies, patio party, picnic, or hobby themes.
---
These shower game ideas are actual submissions that have been collected from ladies all over the country by Wedding Details and the folks at Bridal Shower Bingo. Have fun reading them. Share your game ideas and photos by sending to linda@weddingdetails.com.
Donna Huff of Lakeville, Indiana
Dear Linda,
Thank-you for submitting my game. and I will definitely send those pictures when I can. This was a game made up by my sisters and can be done very romantic or very funny. I could have described the game a little different or with different wording, so I do hope it draws a picture for the reader in the mean time.
We've even done the plates with kids plastic food, but had gift certificates to put with it. Like, plastic pizza and the gift certificate was Pizza Hut. The girls just laugh so hard not knowing what is coming next !! Or on the romantic side, wine glasses, wine, cheese gift certificates (using children's plastic food). Or a grocery store gift certificate for all the fake things you put out for your picnic setting. The women don't know how much the gift certificates dollar value is, so at the end for the total cost it can be quite high or very reasonable. It is totally up to the person packing the bride's basket. But what really gets them going is in the beginning, when you set the scene with music. I choose birds because most generally picnic's are outside. But you can have your mind create many ideas once you start planning a picnic!!! What new bride couldn't use a picnic basket?? (great gift to receive). Also the items purchased can be used at any time.
Example of some different ideas are: Music can be very romantic – blanket for sitting on could be a new quilt or one passed down from generations
Music could be water – A checkered picnic tablecloth
Music can be animals – A blanket
The ideas are endless and fun to think up. Always keep in mind what the bride and groom's favorite things are to eat, and you have a great gift to give!!!
---
Family Recipe Shower
Years ago I gave my cousin and her new husband a family recipe shower. I mailed out invitations to each family member on both sides and asked that they respond by sending in a few favorite recipes along with old photos of that family member and the future bride or groom. I also took up collections of funds in case family members couldn't come and pooled it all together and bought some of the larger more expensive items that the couple wanted. Most of these were items they could use to cook their new recipes. I took the recipes along with the pictures and put in a book that I made personally for them. On the front of the book was a picture of the bride and groom before they were married. The book was the centerpiece among the presents. This was a very memorable event!
Angie in Georgia
---
The Story of Cleaning
I attended a shower recently where the hostess did something rather unique. She made a up a story about the couple using household products as part of the story and then asked guests to bring a product in the story with their gift. As the end of the shower she read the story aloud and had everyone bring the product up as she read it's name. It was really fun and the bride ended up with a basket of items to start her new home.
Andy
---
Tray-Carrier with a Twist!
I have an idea for a shower game…it's like the old "put the kitchen goodies on a tray, carry them out, take them away and make the guests write down what they remember that was on the tray" game…well, do that game but have the guests write down what the tray-carrier was wearing! it works every time because no one is paying attention to the carrier, just the tray.
Jan Baty, Traverse City, Michigan
---
GUESS WHAT'S IN THE BAG!
Here's a fun game for bridal showers. Buy ten cheap kitchen items and place each of them in their own sack. You must not be able to see through the sacks. At the shower, pass around each sack one at at time and have the guests write down what they think each item is. After everyone has felt all the sacks, reveal each item. Guests can check answers themselves. Whoever gets the most items correct wins a prize. The kitchen items in the sacks can go to the bride! Hint: A spaghetti measurer is one of the hardest items to guess.
A Wofford, Austin, Texas
---
Prize Baskets
I made my own gifts for the game prizes. I found inexpensive red baskets and used old white paper that I shredded myself as filler. I then added a little bar of travel soap, travel lotion, and a package of potpourri. I then added a gift related to the theme of the shower. In my case "Kim Anderson Pictures". To finish them off, I wrapped them in clear plastic wrap and it makes it look professionally done. Everyone loved the gifts.
Jennifer L, Temecula, California
---
Honeymoon Basket
An idea I have for a bridal shower, that was a lot of fun, is called the "HONEYMOON BASKET". You ask everyone on their invitation to Bring 1 small item that can be used on the Honeymoon. It can be practical, comical, eatable, etc.(examples: condoms, film, wine, candy, bubble bath, aspirin, hand cuffs). Have a large basket at the door that the guest can put their item in. After the Bride has opened all her gifts, give this to her, and have her show everybody what she got.
Wendy, Ontario, Canada
---
Scavenger Hunt
I had a bridal shower last month and by far the favorite of the day was a scavenger hunt. I made a list of 25 things (everything from a piece of chest hair, condom, a date, phone #..to a kiss and a pair of boxers right off the man..A little of everything so that it was fun for married or single. We had to have partners so that the married wouldn't get in trouble. The married had to pair up with a single . We had 2 hours and they went to as many bars as they wanted and we met at the bar of the brides choice. Whoever had the most things won..and whoever had the most #'s won a prize too:)…It was a blast!
Melissa Kortuem, St. Peter, Minnesota
---
Recipe Cards Gift
Stick blank recipe cards inside the shower invitations and ask each guest to write down their favorite recipe. Collect all of the recipe cards at the shower and put them in a recipe box and give to the bride.
Joanie, Bloomington, Illinois
---
The Price is Right
At my shower we played the Price is Right. There were 10 items and everyone had 10 pieces of paper and a marker. Everyone guessed the price of each item individually and who ever got it or was closest, got to keep the item. That was definitely my favorite game!!
Danielle Booth, Prairie du Sac, Wisconsin
---
Thank You Card used as a Door Prize
This isn't necessarily a "fun" idea, but it is a very helpful one for the bride. Buy enough thank-you cards for everyone in attendance at the shower. As the guests arrive have each person fill out an envelope with their name and address. Tell them it is for a door prize. At the end of the shower draw an envelope and give out a door prize. With each guest filling out an envelope the bride does not have to address her thank-you cards. They're all done for her. Saves her time when she is busy planning for the big day.
Jennifer K. Lentz, Milwaukee, Wisconsin
---
Bridal Word Jumbo
My mother came up with this for my shower- something that even the guests who don't like shower games enjoyed. She thought up 20 wedding-related words, and then turned them into a word jumble. Whoever can correctly unscramble the most words in 30 seconds (or whatever you like) wins the prize. No stress, no embarrassment, but still lots of fun. And it was great for the elderly guests to be able to participate in as well.
Stacey Clarke, Stratford, Ontario, Canada
---
Balloon Burst
Assign everyone a number on their name tags. Have an arrangement of balloons. Before you blow up the balloons insert a number into one of the balloons. Have the bride-to-be sit on each balloon so it pops. When the bride pops the one containing the number, that person wins a prize. This is a great hit.
C Haley, Bogalusa, Louisiana
---
Signed Cutting Board
Purchase a large wooden cutting board and brand it with the couples name and the date to wed on it. At the bridal shower have each guest sign. After it has been signed by all the guests, varnish it and it will keep forever. This is a great keepsake for the bride-to-be.
C Haley, Bogus, Louisiana
---
Lingerie Clothes Line
I did the following at my Sister's bridal shower, and actually got applause and cheers at the end!!! I bought her an entire underwear trousseau from Victoria's Secret, I hung everything up on a clothes line, ( make sure to to the clothes pins to the line, spaced evenly apart) Then I coiled it like a snake, inside a decorative wicker laundry basket. I wrapped that up in cellophane and ribbons, and announced during the gift opening that I needed to do laundry, and needed the Bride's help, as well as all of the guests. We started with the Bride, and passed the end of the line around the room and asked everyone to hold it up high enough for everyone to see, by the end, all of the pretty panties and bras were on display for everyone to see, and it was so cute – people were giggling and really enjoying it. What a hit, and my sister loved it! It made for a great photo opportunity. – I had everyone hold their section up and took a picture! This can also be changed a little for a !!baby shower, with baby clothes. Try it!!!
Laurel Washerman, Huntington, New York
---
Wedding Pictionary
I just had a shower for my best friend and we played a modified version of the game "Pictionary." We split up into teams and in advance, I had made up index cards with words relating to marriage, a wedding ceremony, the honeymoon, sex, etc. Each team had one person select a card each time and then draw the item for her team. It was absolutely hilarious!
Michelle
---
The safety pins and rice game
You take many different sizes of safety pins and a bowl full of rice (instant works best) Have one person at a time close their eyes and try to find as many safety pins as they can in two minutes. It sounds easy, but believe me it's harder than you'd think… the most anyone ever found when we played was 5!
Melissa Bird, Lakeside, California
---
Cover the Cucumber
I was just recently at my cousins bridal shower and there we played several interesting games – one of them more interesting than any I have ever heard before. My sister came up with the cucumber game, this game consist of trying to put a condom on a cucumber while being blindfolded. The object is you have to fully cover the cucumber blindfolded while someone else holds it. The first person to finish wins a prize if there's more than one winner than the two with the tie have a final race for the tie. The game at first had a lot of people a little embarrassed until they saw how much fun it was. And all I could say: at least we were being safe.
Lashun, Rockville, Maryland
---
Dress the Bride
The Bridal shower that was the most fun for me was when we used tissue paper to make a Bridal dress for the bride. You have the bride stand in the center of the room, depending on how many people you have in attendance, each one gets one or two pieces of tissue paper. Instead of using straight pins, we used paper clips. We even went as far as making her a headdress and shoes, Everyone got to participate with the bride individually. The Bride then stays in the "Bridal Gown" for the rest of the party. I like this idea a lot better than dividing up into groups and dressing someone other than the "Bride", and getting a prize for it. You don't need prizes/favors for everything you play. This game also gets people moving and motivated, it's a good ice breaker as you watch others interact with the Bride. I recommend this fun activity to all "Brides".
Vicki Bibeau, Deer River, Minnesota
---
Dessert Recipe Cards
We've decided to buy the bride-to-be a recipe box but send out the recipe cards with the invitations. The guests are to make a dessert of their choice, bring a sample to the shower and include their dessert recipe in their gift card. The recipes will be judged by the bride-to-be and the winner will receive a prize.
Sandra Santos, Toronto, Ontario Canada
---
Purse Scavenger Hunt
I heard a great shower idea – a purse scavenger hunt. You don't tell any of the guests beforehand of course. All it requires is a list of some normal and not so normal things found in a purse (hairbrush, B&W photo, old bill, unpaid bill, mirror, penny, nail file, etc.), whoever has the most items would get a prize.
Susan, Plaquemine, Louisiana
---
Marriage Tip Cards
At my shower my sister had the guests each write down a marriage tip or household hint on a 3×5 index card she had decorated and punched a hole in the upper left corner. She collected the finished cards then tied it with a ribbon from one of the packages I had opened. I still have it after almost 10 years!!!
Cotton Ball Game
A super fun and silly game is the COTTON BALL GAME. The guests take turns being blind folded and handed a wooden spoon as well as a bowl full of cotton balls. Whoever gets the most cotton balls on her head in 45 seconds (or the time you set) wins. This is good for baby showers too, just use pink and blue cotton balls!! Good Luck!!
Dawn, Piqua, Ohio
---
Trivia Quiz
I threw a bridal shower where I felt compelled to have a "game" although I knew a few guests would probably gag if they were forced to participate in anything silly. What I did was create a trivia quiz, only 10-15 questions, mostly with answers having to do with the bride and groom. Other questions had to do with love, wedding traditions, or whatever. In my case, the shower already had a "month" theme (each person brought a gift corresponding to a month of the year) so I made each answer be a month. Questions included: What month did Bride & Groom meet? What month was Groom born? What month is diamond the birthstone for? Bride and Groom are headed to Hawaii after the wedding. What is Hawaii's rainiest month? etc. etc. Some were hard questions, other were ones the family members were sure to get. I read them all aloud and people wrote their answers down on paper. Then I read the answers out loud so people could "score" themselves. It didn't last too long, there was a lot of laughter and guessing and comments as people wrote their answers, and it was fun. I had a small gift/prize for the winner.
K. Zaruba
---
Bride Comments
Have someone in charge of jotting down all the comments the bride to be makes as she opens her shower gifts. Then after the presents have been opened have someone with great expression read them back telling the bride these are supposed to be some of the comments she'll make on the night of her wedding. . .IE: oh, it's so cute; my mother has one of those and uses it all the time; do you think they would mind if I exchanged this, I've already got one!
Lot's of fun, especially for a young bride.
Kathi Ridge, Crestview, Florida
---
Find a Word Game
Make up a word find game…words pertaining to the bride and grooms wedding day, such as wedding, groom, bride, cake etc. I came up with 30 words. Whoever gets the most words wins a prize.
Kathy D, Staten Island, New York
---
Clothes Pin Game
I am doing the traditional "clothespin game." The clothespin game is where everyone,upon arrival, is given a clothespin & has to pin it on their clothes where it is plainly visible.Then you make up a rule like, "No one can cross their legs" or "you are not allowed to say the word "wedding" " or "you can't use the word "pretty" in describing a gift the bride receives" – Whatever rule you want. If a guest catches a person breaking the rule, that person can run over and take that person's clothespin. The person at the end of the gift-opening or whenever with the most clothespins wins a prize. Yes, I know it is completely hokey, but it really is fun.
---
Celebrity Guess
I am cutting out large photos of celebrity couples and putting them on a decorated poster board. I'll have their heads and bodies covered. When the game starts, you reveal the bodies only & see who can guess the couple, then, when someone gets it correct, you uncover their faces. The person who guesses the most correctly wins.
---
The Newlywed Game
After being a bridesmaid 8 times, I certainly have sat through my share of showers. A "game" that my closest friends have done, and did for me 4 months ago, is similar to the Newlywed Game. They contacted my fiance and asked him 20 questions, such as : what is your bride's favorite non-alcoholic drink, what was breed and name of her childhood pet, how old was she when she got her first kiss, what is the most she has ever paid for a pair of shoes, the list goes on and on and can be as innocent or racy as the crowd allows. Then, at the shower, all the guests plus the bride-to-be had to answer each of the questions on a piece of paper, and in the end, the guest with the most correct answers got a small prize. The hostesses also report how the grooms answers compared with bride's answers.
---
Guess the Spice
I went to a shower once where we took spice jars and covered them up so you couldn't see them. Then we passed them around to smell and Identify. Who ever had the most correct was the winner. It was hard for the younger members to do…but it was still fun…and the older ladies got a kick out of it!
Note: this game would work well with a kitchen-themed shower.
Another fun one is reading a list of words and have everyone write the first word that comes to mind. Who ever has the most matches with the bride is the winner. (Of course, you don't tell the players that until after they've written their lists!)
---
Jelly Bean Gossip
We played this game at my cousin's shower and it was a big hit! Give each guest 10 jellybeans (if you have 15 or more guests, you may want to increase the number of beans per guest). The first person makes a true statement about themselves, but begins it with the phrase "I never", example – if she always goes out on Fridays nights, she would say "I never stay home on Friday nights". The statement must be true and must be phrased "I never …" If the phrased statement is true for a guest ( they are home on Friday nights)then they must eat a jelly bean. Each person in the room takes 1 turn making a statement and the person with the most jellybeans left wins. The game becomes very fun when someone makes a controversial statement (one guest stated "I never gossip") or when someone does not eat a bean when they should. We were laughing hysterically and shouting at each other to eat a bean. For myself, when the gossip statement was made, I felt compelled to eat 2 beans.
---
Round the Clock Shower
It was called a round the clock shower because everyone's invitation had a different time on it, ie, bring a gift the bride and groom can use at ____ am or pm She got everything from an iced tea maker to condoms. It was coed and we all had a good laugh.
Design A Gown
The game that I want most at my shower is the "Design a Gown" game. Design a Gown: Split into groups of 4 or 5 people. Give each group 3+ rolls of toilet paper. They need to use the TP to design a gown. One person has to be a model. Give them a time limit. After the time limit, judge the gowns. Prizes can be given for the funniest, most stylish, prettiest, etc. My mother played this and said that it was absolutely hilarious.
---
The Toilet Paper Game
Here is an idea for a game……you may have already heard it, but it is a great ice-breaker among people who do not always know each other. Pass the roll of toilet paper around the circle of people. Tell each person to rip off however many pieces they want (this is what will determine the "length" of the game.)Don't tell anyone what they are doing, don't even let on that it is a game if you can help it,this makes it even more funny. Once everyone is finished, you can explain the game. For every square they are holding,they have to tell the group something about themselves. The more sheets, the more facts needed. You just make your way around the circle getting to each person in turn. I know it isn't that funny of a game, but it certainly breaks the ice well, not to mention, some people will act like they really "hate" you. All in good fun though!!! You can also have a prize for the person who pulls the most squares and is able to put a fact to each one!!!
---
Mad Lib
My mother wrote out the story of how my fiance and I met, then she took out key words throughout the story and made it into a mad lib, asking us for verbs, nouns, adjectives,etc. Then she read the new story back to us. It was hilarious — a lot more entertaining than the real event. She gave both versions to me.
---
Weigh Over
The best shower game we played at my showers required a scale. The scale was placed in the center of the floor and everyone had to weigh their purses. It was great!!! I can't believe how heavy some of those purses were. Who needs to work out?!?
---
You are invited to send us your game ideas AND photos to join@weddingdetails.com.