Congratulations you're engaged! Now let's start with step one:
9-12 Months
Create a budget, who is paying for what? This helps as you go through each part of the planning and in deciding what the most important aspects of the wedding are.
Consider hiring a wedding coordinator, I don't just say this because I plan weddings but because there are things as wedding coordinators we think of everything and take the stress out of planning.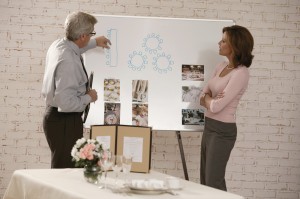 Decide on the Officiant, this can determine if it's an indoor or outdoor wedding as well.
Book and place deposits on the wedding and reception locations
Choose your wedding party, bridesmaids, groomsmen, flower girl, and ring bearer
Start shopping! Wedding dress, Tux and bridesmaids dresses
Send out save the date cards
Start meeting with vendors like florists, photographers, caterers to discuss your budget
Create guest list
Start discussing honeymoon arrangements
Consider buying a wedding planner and developing record-keeping system
6-9 Months
Order wedding dress, bridesmaid dresses and accessories
Plan music for the wedding and reception
Register for wedding gifts
Order invitations and announcements
Choose a wedding cake flavor and design
Meet with the caterer and create the menu
3-6 Months
Pick out and order wedding rings
Complete the guest list and mail the invitations
Plan rehearsal dinner
Check state/county marriage license requirements
Create timeline for the wedding and reception
Make lodging arrangements for out-of-town guests
Purchase gifts for attendants and groom
Plan reception seating chat
It's the Wedding Day…
Now that the wedding day has arrived and all the planning is completed, relax and let the wedding
coordinator you hired do the rest and don't forget to live happily ever after.
Thanks,
Madie
Posted by
Madeline Begley
Owner/Event Manager
Events to Renumber
231-714-4014
121 E. Front Street, Suite 102-B
Traverse City, MI 49684
EventsToRememberTC.com