| | |
| --- | --- |
| Choosing the Right Groom's Beach Wedding Attire | |
You are planning your beach, outdoor or tropical wedding with special attention to all the details. Remember, your beach wedding shirt and clothing in general should always be your first priority.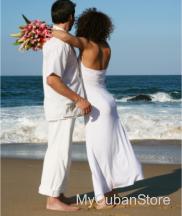 The clothing on your beach wedding day is a very important element. It will make you and you wedding party feel special and attractive, but it needs to be practical, comfortable and elegant.
Tropical, beach or outdoor weddings do not follow the same dress code etiquette because of its non-traditional method that a regular wedding would. The event takes place outside, you have to consider the weather. It could be hot, windy, chilly or a combination of the mentioned elements. That's why the groom needs a shirt that is going to be suitable for the event.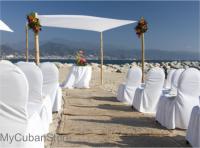 Being that this is not a traditional church wedding, a tuxedo, suit or sports jacket will definitely not be an accurate or fitting dress code attire. Not only will the traditional attire not be appropriate for this special outdoor event, but it will be very impractical. You and your wedding party will be very uncomfortable.
The guayabera, Cuban Shirt, Mexican shirt, or most commonly called the "The Mexican Wedding Shirt", is the perfect and ideal groom's shirt for your beach or outdoor wedding. This shirt gives you the freshness, the comfort, and best of all the elegance that you require. The shirt is light, classy and you wear it outside the trousers allowing for easy movement and comfort.
The Mexican Wedding Shirt is a tropical shirt and the perfect match for this special event. Its casual look makes it practical to wear this shirt in your honeymoon and thereafter. We know from experience this shirt will not sit in your closet after your wedding day.
The History of the Mexican Wedding Shirt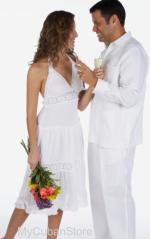 The Mexican wedding shirt has been around for the past 200 years. This shirt has a loose style, and, as a result, it can be worn by all shapes and sizes. These crisp, cool shirts are fresh, light, and flattering to any body shape.
The craftsmanship and details of a Mexican Wedding shirt is what makes this shirt so classy and fashionable. Among the details that give this shirt its classic look are two or four patch pockets, and two vertical rows of fine, tiny little pleats, sewn closely together running along the front and back of the shirt.
The origin of the name came from a legend, which tells about a poor country wife that would sew large pockets in her husbands' shirt for him to carry guava fruit home, thus giving it the name guayabera (guava = guayaba in Spanish ). Some say the shirt originated in Cuba and others swear it was in Mexico.
Traditional linen guayaberas are still the most popular beach wedding shirts because of their comfort, style, and freshness.
With unbeatable crispy white and earth soft tones the Irish linen, its fabric is soft and made from the highest quality linen. It's a strong texture, yet soft, and comfortable. Stylish in its design it can be worn for many different occasions, especially for a beach wedding.
Groom's Pants for the Beach Wedding
The 100% Linen drawstring pants are the best choice for this beach or destination wedding. Relaxed, fresh, yet elegant enough to be the Mexican wedding shirt partner. Just like the Mexican wedding shirt, these are pants he will be wearing throughout the honeymoon also.
We recommend the linen drawstring pants in a soft natural tone with crisp whiteMexican wedding shirt for the groom to create the perfect beach wedding attire.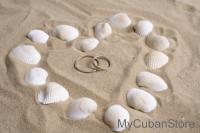 Today many wedding destination planners are using the Mexican wedding shirts not only as the groom's shirt but also as a requirement for their guests. Therefore creating a unique and tropical wedding look with an authentic and traditional island shirt created long ago for this event.
Author Credit -This article is made available to you courtesy ofwww.MyCubanStore.com.