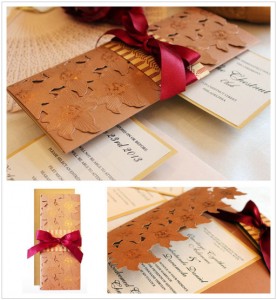 Truly unique Wedding Invitations with an exotic flavor!
Inspired by ancient and contemporary African fabrics, these patterns are not only aesthetic but are steeped in deep symbolism and meaning.
If you love bold patterns on shimmering metallic paper in vivid hues like red, bronze, amber or indigo; or elegant pocket fold invitations with exquisite foil embellishments sumptuously wrapped in luxurious satin ribbons, as well as simply classic layered wedding invitations then you might consider the exotic African inspired stationery from Bibi invitations.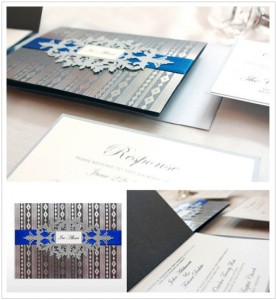 Bibi was born out of a fervent passion to bridge the gap in the market for truly unique wedding invitations.  With a desire to create a wedding invitation that is a true reflection of most African/ Ethnic ceremonies; which reflect a vibrant celebration of colors and textures.  An invitation that literally "will rise to the occasion," Bibi co-founders realized that there were very few invitations in the market that captured the lushness and joy of life, so www.bibiinvitations.com  was born!
With Bibi, you will find a great selection of the finest quality metallic paper. Check out the delicately textured linen paper or sumptuous ribbons and luxurious foil colors.  Even better, you can customize the invitations in each collection to match the mood and ambiance of your special day.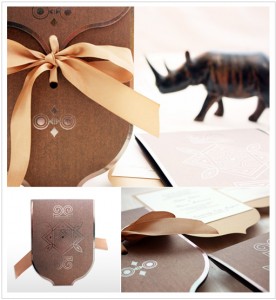 Bibi Invitation's offers 3 magnificent collections:
Okin Signature Collection: Our haute couture luxury African wedding invitations. Die cut and foil stamped on the finest metallic paper
Ifeoma Collection: Our bright and bold wedding card collection! In this collection you will find the classic mix and match Dutch wax inspired prints.
Abena Collection: Our stylishly affordable African wedding invitations. In this collection you will find, layered wedding invitations and flat wedding invitations flat print on professional press.
Ordering made easy with a 3 step process which allows you to personalize your invitation to your taste.  Bibi guarantees efficient service, on time delivery, and the best quality products.
Remember, an invitation is the first hint of what's in store for your special occasion. Wow your guests and leave a lasting impression that is uniquely you! http://www.bibiinvitations.com